Trinity County is a birdwatcher's paradise with magnificent forests, flowing rivers, and 300-plus species of birds. The Trinity 200 Club spotlights those birders reaching 200 or more species in this beautiful but difficult county.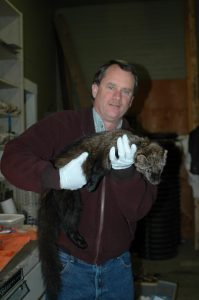 John Hunter (229)
I was spending a great deal of time doing fieldwork for the Forest Service in Trinity County in the 1990's and one day while reviewing my Trinity list I realized that " Hey, I'm a contender for Trinity, and could really be somebody." I then started the systematic, and very enjoyable, task of going through all of the available information to assist with my search for every possible resident and likely transient that does, or might, occur in the county. Fortunately, Gjon Hazard was a willing participant in countless weekends and semi-work-related excursions to old and new hotspots in the county. Trinity is a great county to get away from the crowds, but can seem like a cruel mistress after a very long day of driving and birding (and possibly camping) with not even a semi-interesting observation to show for the effort.
Favorites:
Marbled Godwit and Mew Gull together (both 1st county records, Trinity Center with Gjon Hazard, Tom Leskiw and Greg Schmidt)
Nuttalls Woodpecker (Weaverville)
Gray Jay (near Onion Camp, my 200th nib for Trinity)
Rufous-crowned Sparrow (2nd county record)
Yellow-headed Blackbird (1st county record, with my daughter Libby)
John Luther (226)
Love birding the beautiful areas in Trinity but the county is over four hours from home in Oakland so my number of trips have been reduced. Retired from 37 years of teaching biology and natural history at the College of Alameda and leading natural history trips throughout California and to Alaska, Baja, Galapagos, Australia and Switzerland. Had four wonderful tours of duty at Rio Cristalino Jungle Lodge in Brazil as research assistant to my son doing field work on bird vocalizations and communication for his PhD. Now like to sprinkle in a little international birding with California County Birding.
Favorites:
Red Phalarope (1st county record and my last county to 225 in California)
Mew Gull (2nd county record)
Black-crowned Night Heron
Greater White-fronted Goose (my 200th species for the county)
Eurasian Green-winged Teal (1st county record)