Humboldt County's diverse habitat includes over forty percent of all remaining old growth Coast Redwood forests and more miles of coastline than any other California county. It also gives rise to prolific birding opportunities. The Humboldt 400 Club spotlights those birders reaching 400 or more species in the county.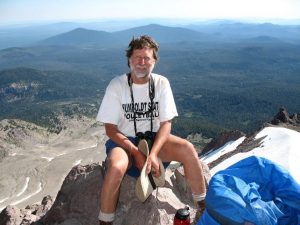 Gary Lester (453)
Gary started counting Humboldt County birds in 1973 with backyard bird chases of of Summer Tanager and Baltimore Oriole found by Dick Erickson, Tom Schulenburg and Ron LeValley. He finally met Dick in Crescent City seven years later and the first thing Dick asked was what he had in Del Norte? Gary had no clue what that meant. Look what has happened since! Gary is currently living in McKinleyville with Lauren and has three daughters: Kelsey (currently in Santa Barbara), Amy Rae, and Dana (both at home). Gary is a consulting botanist and wildlife biologist with significant field work assistance from Lauren.
Favorites:
Yellow-throated Vireo (Humboldt #1, with Strachan at College Cove)
Scarlet Tanager male (Humboldt #2, with Lauren and Sterling at Fairhaven)
Blue-winged Warbler (College Cove)
Sage Sparrow (Humboldt #2, with Lauren and baby Kelsey at Elk Head)
Kentucky Warbler (#2 at Fairhaven)
Brown Shrike (Humboldt #1, Clam Beach)
Kenneth Irwin (449)
When I started college in 1971 Stan Harris and Richard Genelly at HSU inspired a love of birds and Stan continues to be a mentor. All of the members of the Humboldt County 400 Club herein and the birders they mention as well as Billy Clow have been influential and helpful. My most interesting research done was on Red Crossbill behavior, a magnificent obsession.
Favorites:
Type 10 Red Crossbill
McCown's Longspur (Arcata Bottoms, V Street Loop)
White-eyed Vireo (Elk Head)
Gyrfalcon (at mouth of Redwood Creek)
Common Greenshank (I found this bird shortly before Labor Day weekend. I was pleased that it stuck around and many folks got to see it.)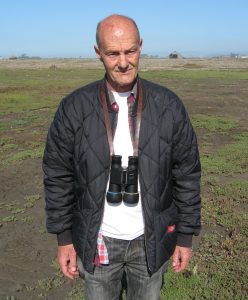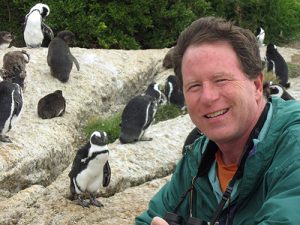 Tom Leskiw (449)
Tom continues his exploration of Humboldt's avifauna, discovering new breeding sites for Bank Swallow and White-throated Swift in 2013 and 2014, respectively. He is a committee member of and co-sponsors the Humboldt Bird of the Year award (2013: Keith Slauson, Little Bunting in McKinleyville). His writing projects keep him busy and he continues to serve as organizer and judge for the Children's Nature Writing Contest, sponsored by Redwood Region Audubon Society.
Favorites:
Yellow-throated Vireo (3rd county record, Scenic Drive, Westhaven)
Williamson's Sapsucker (3rd county record, Groves Prairie)
Brambling (w/ Fred Boerman) (2nd county record, Eel River Bottoms)
Pygmy Nuthatch: (3rd  county record, Centerville -- a found 400th for county and got Doc a County tick)
Rufous-crowned Sparrow (1st county record w/ John Hunter, Alderpoint)
Stanley "Doc" Harris (1928-2019), 448
Stanley "Doc" Harris (1928-2019) retired from the Humboldt State University Wildlife Dept after 33 years of service, authored Northwestern California Birds, compiled the Centerville to King Salmon Christmas Bird Count for 29 years, and continued to be an active contributor to local Humboldt County birding.
Favorites:
Laughing Gull (1st, found with wife, Lori, Arcata Oxidation Pond September 4, 1973)
Brown Thrasher (with Paul Springer in 1974)
Worm-eating Warbler (with Billy Clow in 1975)
Thick-billed Murre (with Mark Phillips in 1977)
Wintering Worm-eating Warbler (1st California record, 1977-78)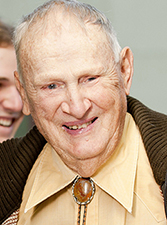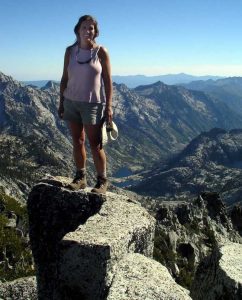 Lauren Lester (446)
When I first arrived in Humboldt County, I was lucky to meet up with Kay Chaffey, Ron LeValley and Linda Dorflinger who shared their birding knowledge and valued friendship. Fate would have it that the next summer I enjoyed sharing fieldwork in Del Norte County with my future husband, Gary Lester. While pursuing rare plants in the highlands of the Smith River drainage, I appreciated the combination of working and birding with Gary. My fortune to join the many accomplished birders on this page can be traced directly to my early warm welcome from Kay, Ron and Linda and my continued joy of sharing the chase with Gary. Lucky for Gary and me, our children have embraced our love of hiking and camping affording me my favorite style of birding-combine it with hiking, camping and family.
Favorites:
Late fall Lucy's Warbler (1st county record, with Gary, Ferndale)
Re-finding Long-billed Murrelet (with Michael Morris in kayaks off Trinidad, September 2, 2003)
White-headed Woodpecker, summering Hooded Warbler, and Plumbeous Vireo (at her McKinleyville house)
Ken Irwin's Long-eared Owl (while camping and sharing with family and friends on Horse Mountain)
Re-finding Common Poorwill (hiking up to Whitey's Peak while 8-months pregnant)
Jude Power (443)
My attainment of "400 Club" status is the result of the friendliness and support of the Humboldt birding community. Of the great folks on this list, I am the only one with a career outside ornithology or biology, so the help of others - both in finding birds and helping me re-find them - has been a real bonus. My best find so far is the Canada Warbler, always a great bird to see regardless of who discovered it. The reason I'm in Humboldt County at all is because I was bewitched by her beauty long ago. The reason I'm still here is because of the quality of people who have also chosen to remain. What a great place to bird.
Favorites: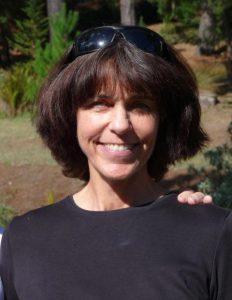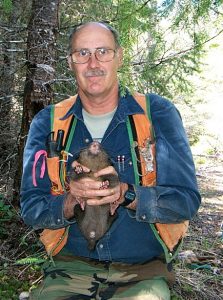 Chet Ogan (440)
Chet has been birding Humboldt County since 1968. He fondly remembers his first Tufted Duck at the Oxidation Ponds and Bald Eagles at Big Lagoon. "Dick Erickson and John Sterling helped get me hooked on birding. It's been a thrill hosting birders from around the world. What a wonderful place to watch birds." As Stan Harris said, birds have wings and can show up anywhere.
Favorites:
Confirming two Brown Boobies (an adult female roosting on rock then seeing a juvenile fly past her at Trinidad)
Confirmed nesting of Blue-gray Gnatcatcher (Friday Ridge Road and Madden Creek Road)
Flammulated Owl with four or five young in a Black Oak cavity nest, then shortly after dusk watching the Flammulated Owls, Burrowing Owl, and a Saw-whet Owl feeding on grasshoppers nearby (Severin Opening)
Clark's Nutcracker, White-breasted Nuthatch, and an Ovenbird (Redwood Science Lab over the years)
Sean McAllister (437)
I came into the Humboldt birding scene whole-heartedly in 1992. The first wave of inspiration came from Ben
Hawkins, but I didn't know what it meant to be hardcore until I was coaxed by Hewitt to chase my first Humboldt
County vagrant (1st Gray Catbird, Redwood Creek). I started tagging along with Hewitt and Fix, learning the ropes
and the hotspots and rapidly wearing out my copy of Doc's first edition. Fix provided many great ID tips which I used
during daily solo outings from my home in the Eel River Delta. The delta would become my favorite stomping grounds
and the base for most of my favorite original discoveries. Everyone on this page has contributed much to my success
in getting to 400 and beyond. Joining this elite group is an honor.
Favorites:
White Wagtail (1st county record, Ocean Ranch, Sep 1994)
Nuttall's Woodpecker (2nd county record, 1st since 1994, at Yager Camp in January 1993)
Cassin's Kingbird (2nd county record, 1st since 1975, at Bear River Ridge in October 1995)
Bar-tailed with Hudsonian and Marbled Godwits (Ocean Ranch, September 1997)
Broad-billed Hummingbird (2nd county record, 1st away from feeder, at Centerville, September 1997)
Yellow-green Vireo (2nd county record, Loleta, October 1993)
King Eider (South Humboldt Bay, December 2022)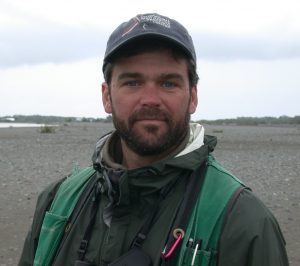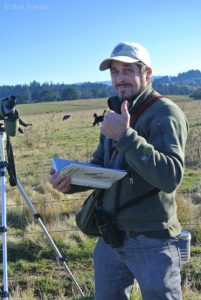 Keith Slauson (434)
Information and favorites to come...
Rob Fowler (432)
I first moved to Humboldt County in 2003 to pursue a bachelor's degree in Wildlife from Humboldt State. While school was the initial reason for moving up here, the amazing birding opportunities in Northwestern California were so good that I had to constantly get out and experience it firsthand as much as possible!
Favorites:
Sulphur-bellied Flycatcher (1st county record, Arcata Marsh)
Pine Warbler (1st county record)
White-eyed Vireo (2nd county record, Arcata Marsh - a bird I've always wanted to find in Humboldt)
Red-footed Booby (1st county record, co-found with Russ Namitz who first spotted the bird)
Black-chinned Sparrow (2nd county record, found conducting the Friday Ridge BBS route this past summer)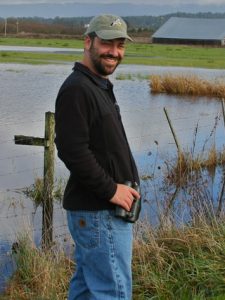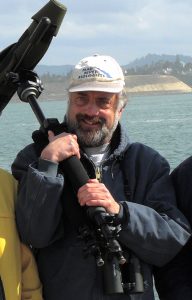 David Fix (425)
I moved from Oregon to Humboldt County in 1992. The only bird lists I keep track of are Humboldt and our yard (no state, ABA, or life list). My worst dip in Humboldt has been Field Sparrow. I had to camp out in a remote area to do murrelet surveys inland on two of the mornings the bird was present. It was a double whammy, as on one of those mornings, about an hour and a half before sunrise, I was knocked into the brush by a feral steer while hiking in to our survey points. I came close to being gored--its horn left a garish bruise which, by a week later, had migrated from my sternum to below my navel. Perhaps the animal knew I'm a proponent of grazing reform? I made it to the station in time for the survey and stood there attentively for two hours, listening to the fog-drip in the tanoak forest--knowing a county first was being enjoyed by others, but not feeling too hot, and unsure if I actually might die from internal bleeding. Just another hazard of seabird survey, I suppose. I saw the wily beef a few hours later, down on a road, and hucked some rocks at it until it ran away.
Favorites:
Blue-winged Warbler (Centerville CBC along the Salt River, January 2, 1993)
Rustic Bunting (Willow Creek CBC, at Hoopa on December 23, 1995)
Black-chinned Sparrow (County 1st, SE of Cape Mendocino on July 3, 1999)
Eastern Yellow Wagtail (Arcata sewage ponds, August 27, 1996)
Thick-billed Murre (King Salmon overlook, December 16, 1992)
John Hunter (425)
I think it was in 1989 when I started working on a Humboldt list. I met John Sterling, and his completely matter-of-fact attitude about how I had no real choice but to work on a Humboldt County list caused me to be instantly committed to such an endeavor. We promptly went out and netted me five county birds that day (Clark's Grebe and others like that). Little did I know how important to me this would become over the years, and how much satisfaction and fun would be the result. I love county and world birding, but my life is currently consumed by family (wife Xiaoqing, daughter Libby, and daughter Shuhan who was just born in July 2008) and my job with the US Fish and Wildlife Service in Arcata. I fully intend to get back to birding as time permits.
Favorites:
Rufous-crowned Sparrow (1st county record and breeding record as well, with Tom Leskiw, at Alderpoint)
Black-vented Shearwater (just offshore of Humboldt Bay)
Williamson's Sapsucker (Blake Mountain)
Barred and Spotted Owls (forecasting his future work in his grad school and professional career)
Tropical Kingbird (his first vagrant find -- how exciting)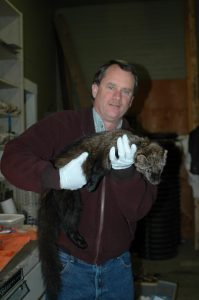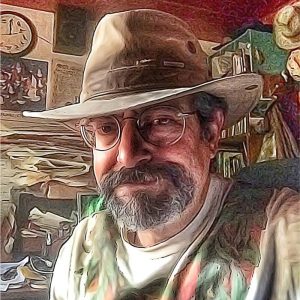 Gary Bloomfield (422)
A wildlife artist and illustrator, Gary has been interested in birds for almost as long as he can remember. He did not start actively birding until he was nine, but since then he has been an avid birder and occasional field ornithologist. He has lived in Arcata since 1980.
Favorites:
Gary Friedrichsen (421)
Information and favorites to come...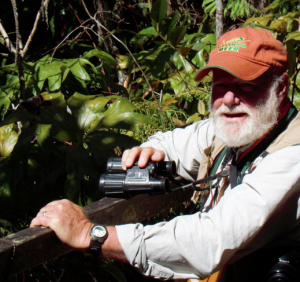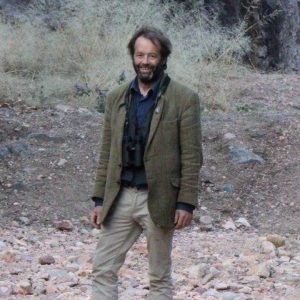 Rob Hewitt (419)
Rob's info still to come.
Favorites:
Yellow Wagtail
Brown Booby
Laughing Gull
Northern Waterthrush
California Quail
John Sterling (419)
John lived in Humboldt County from 1979 to 1991 with a few interruptions while working in New Mexico, Mexico, Peru and Ecuador. Before moving to Arcata to attend HSU, as a high school student, he visited in 1977 and 1978 to start his county list with good birds such as Snowy Owl and Northern Shrike, but missed Black-headed and Little gulls, and Blue Jay on one memorable chase. He still needs Black-headed Gull! He has too many upsetting misses to count, but just enough finds to keep trying. A pelagic trip in April 2013 netted him four county birds: Hawaiian Petrel, Murphy's Petrel, Cook's Petrel and Parakeet Auklet!
Favorites:
European subspecies of Whimbrel (1st state record)
Oriental Greenfinch (1st state record)
Cassin's Sparrow (1st county record)
Painted Bunting (1st county record)
Yellow-green Vireo (1st county record)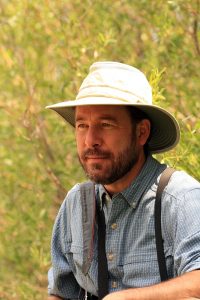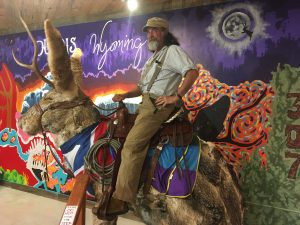 Michael Morris (411)

I got back into birding when I was recruited into a barbershop quartet at HSU in which the other three
were all birders. This led to some epic Spring Break barbershop/birding trips to Arizona.
I remember the times where posting on Doc Harris' "sightings" sheet outside his office door was how
word got out about rare finds. If he happened to be in with the door open, you'd have to be ready for a
grilling on what you "thought" you'd seen.
It was a big deal when the system graduated to a phone tree organized by Tom Leskiw and Gary Lester.
Twenty-one local birders' Humboldt County lists were compiled into two booklets. If you saw a bird that
wasn't on someone's list, you called them up. I still have my "Wish-To-See-List."
It's been fun seeing this open and welcoming community grow; from the "old guard" of Doc, LeValley,
Lester, Erickson, Springer, Sterling, etc. to a newer generation of Leskiw, Hunter, Hazzard, Fix, Jude,
Hewitt, and many others, on to a new expansive group of "young bucks" who seem to be all over the
place all the time, many of whom I don't know well.
I don't get out and beat the willows as often as I used to but now that I'm retired, hopefully I can
contribute a bit more.
Favorites (Not necessarily for their rarity but more for the circumstances in which they were seen):
American White Pelican – Chet Ogan was leading a Marsh Guides Interpretation session. We were
gathered near the end of I St. and the subject of Pelicans came up. Someone asked, "Do we ever get
White Pelicans?" Chet succinctly answered, "No." On cue (literally seconds later) an American White
Pelican glided by behind him and landed in Klopp Lake. We got great views.
Long Eared Owl – heading up to Horse Mountain after my night shift to meet Gary and Lauren Lester
to look for a reported bird. After napping I woke early in the a.m., found them and we got the bird.
Horned Puffin – On two different occasions (maybe a couple years apart) I came upon a solo immature Horned Puffin while kayaking off Trinidad:
7/10/95 a mile or so North in the vicinity of White Rock and 2/8/05 near Flatiron Rock.
Indigo Bunting – My old Golden Guide (still a favorite) (no I don't have an app) had sonograms. I was
in Shay Park in Arcata matching the visual to the Lazuli Buntings I was seeing and hearing. Then I heard a
similar but slightly different song and it seemed to match the sonogram of Indigo Bunting. I tracked
down the singer and indeed it was! Cool.
Snow Bunting – Dick Erickson had reported a bird on Bear River Ridge. I drove up in a blinding snow
storm and at about the point I was wondering what the hell I was doing up there and the shear
impossibility of seeing anything, much less a little bird in this blizzard a "larger than the rest" snowflake
blew horizontally across the road in front of my headlights and rapidly beating wipers. I stopped, got
out, and there on the frozen bleak tundra looking totally at home was the bird. The rare, unadulterated
pure luck of birding astounds me.
Ron LeValley (1947-2022), 411
Ron started Birding in Humboldt County when he was stationed there by the Coast Guard for 12 weeks in 1970. His first bird of interest was a Buff-breasted Sandpiper which was the first Northern California record. He went to Humboldt State for his graduate degree and while there taught numerous birding classes and ornithology labs. Living for almost twenty years overlooking the Mad River resulted in a yard list of over 255 species, at one time the largest yard list in the United States.
Ron's favorites were:
Ferruginous Hawk (1st county record - "back when first records were easy - there's an advantage to being old!")
"Following Steve Summers to see the Brewster's Warbler, then taking Steve's sketch to show Lester Short at the American Museum of Natural History (who had written the definitive work on those hybrids back then). He thanked me for showing him a life bird!"
"Hearing, then seeing a Black-backed Wagtail fly over our house while Linda and I were standing outside talking."
"Seeing the Least Storm-petrel when we were on the old whaling boat off Cape Mendocino in water over a mile deep and waves that made most of the passengers seasick. We used to have to bring our own life jackets for those trips!"
"Finding the Crested Caracara at the mouth of Jacoby Creek when we were taking Harvey to a temporary job in Eureka."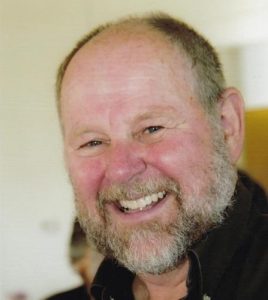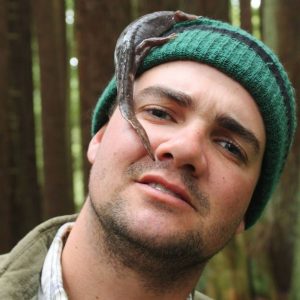 Tony Kurz (407)
I arrived in Humboldt in 2009. Already a birder who came from Tulare County (farmer capitol of California). Itching to bird in this brand-new area, I reached out to a couple local birders. The first being Ken Burton who took me out to the North Jetty where I learned how dangerous the north coast ocean can be quickly getting my first lifer Rock Sandpiper. Checking NWCALbird list serve I saw there was a Brown Thrasher in the Sunnybrae neighborhood coming to a gentlemen's house by the name Stan Harris. He provided his phone number, so I called him up and got permission. Later to find out this is the famous Dr. Stan Harris former Ornithology professor at HSU. We sat in a chair inside his house looking out the window into his back yard waiting for the cautious Thrasher to appear. I quickly got it and yet another new life bird. But what I really enjoyed was talking to Dr. Harris about bird stories. I just felt let into the Humboldt birding scene with so much friendliness. I soon met David Fix and Jude Power at the second Saturday Audubon walk at Humboldt Bay NWR. One of my first good finds was on this walk. I yelled out while scoping "I got a Loggerhead Shrike!" I remember Fix exclaiming "Wow" then he said "that's a Northern Shrike." I remember thinking well shoot that's a lifer and I'm definitely not in Tulare County anymore. Originally coming up here to attend the formally known Humboldt State University, I quickly met one of my best friend birding buddies, Daryl Coldren. We birded everywhere together, and he had already been up in Humboldt for a couple years. So, I learned all the hotspots and that was the real start where my list started to grow. There are so many local birders that took me in and that I learned from that helped me get to 400. I appreciate all of their effort and thank them all.
Favorites:
Eurasian Skylark (Loleta Bottoms off Cannibal Island Road, January 3, 2021)
Eurasian Kestrel (Fields Landing, January 6, 2017)
Wilson's Storm-petrel (Redwood Region pelagic, 10.5 miles west of Trinidad, August 27 2011)
Black-throated Blue Warbler (Fairhaven Willows, Horsepasture Patch, September 11, 2011)
Williamson's Sapsucker and Clark's Nutcracker (within 10 minutes at exactly the same location near Cold Springs off Titlow Hill Road, October 5, 2019)
Ken Burton (404)
I moved to Humboldt in 2005, in part because of its birding scene. I had about 25 years of pretty hardcore birding
under my belt at that point, and had actually sworn off county listing before arrival, but when Sean McAllister created a
Google Sheet for us to track our sightings, I couldn't resist trying to reconstruct mine from eBird and memory. That
made me realize that the magic 400 wasn't out of reach, but it was a goal that took quite a long time due to many
missed rarities resulting from travel elsewhere, coupled with few pelagic opportunities. It was a boat trip in
September, 2022, that finally got me there with Black Storm-Petrel - and within a month I had three more! Thanks to
everyone who's helped in one way or another along the way.
Favorites:
Field Sparrow (1st regional record, 1st territorial FISP in CA, Blue Lake)
Williamson's Sapsucker (Trinity Alps Wilderness)
Crested Caracara (near Eel/Van Duzen confluence)
Gray Catbird (Blue Lake)
Ruff (Lolita Bottoms)
Sharp-tailed Sandpiper (Ferndale Bottoms)
Horned Puffin (off Wedding Rock)
Worm-eating Warbler (Shay Park during Godwit Days)